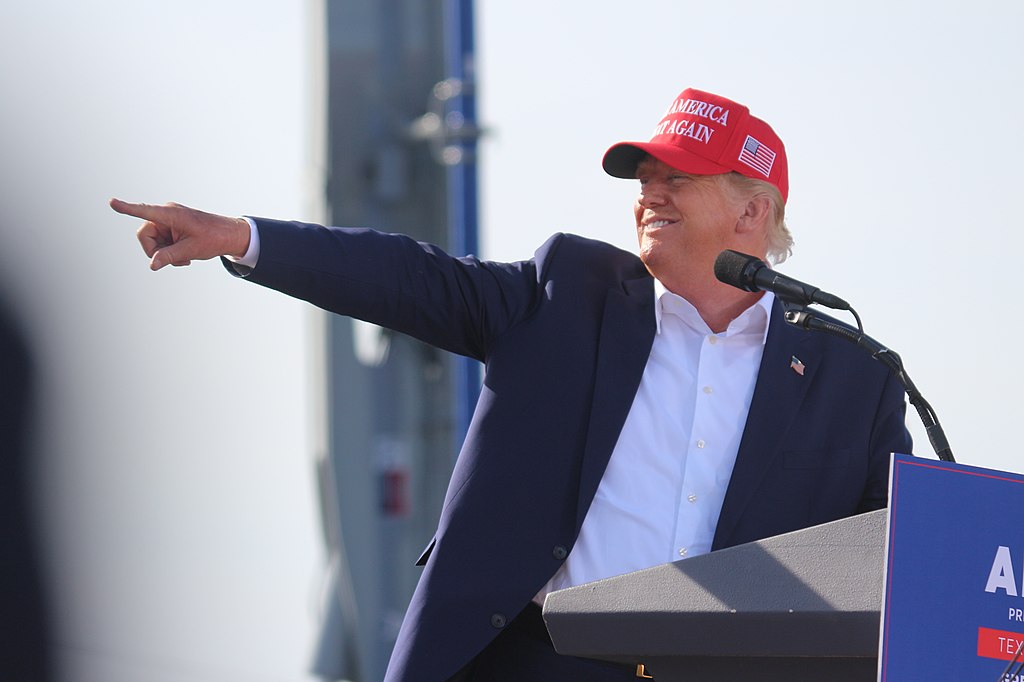 Former President Donald Trump confirmed he plans to travel from Florida to New York City on Monday where he will appear in court on Tuesday following his indictment.
"I will be leaving Mar-a-Lago on Monday at 12 noon, heading to Trump Tower in New York," Trump wrote on Truth Social. "On Tuesday morning I will be going to, believe it or not, the Courthouse. America was not supposed to be this way!"
In a previous Truth Social post, Trump targeted Manhattan District Attorney Alvin Bragg who pursued the indictment following a years-long investigation into the former president.
"The Corrupt D.A. has no case. What he does have is a venue where it is IMPOSSIBLE for me to get a Fair Trial (it must be changed!)," Trump wrote. "And a Trump Hating Judge, hand selected by the Soros backed D.A. (he must be changed!). Also has the DOJ working in the D.A.'s Office – Unprecedented!"
On Sunday, Former Manhattan District Attorney Cy Vance Jr. warned Trump against unleashing his usual social media tirades, saying the judge presiding over the case could make matters worse for the former president during an interview with NBC's "Meet The Press."
"I've got to say that I was disturbed to hear the former president speak in the way he spoke about the District Attorney Bragg and even the trial court in the past week," Vance told the show's moderator, Chuck Todd.
"And I think, if I were his lawyer – and believe me, no one has called up to ask for my advice – I would be mindful of not committing some other criminal offense, like obstruction of governmental administration, which is interfering with, by threat or otherwise, the operation of government," Vance continued.

"And I think that could take what perhaps we think is not the strongest case, when you add a count like that, put it in front of a jury – it can change the jury's mind about the severity of the case that they're looking at," he said.
The details of Trump's indictment are still unknown because they are under seal until the arraignment takes place.
A source told Fox News that the former president is expected to arrive at the 100 Centre Street courthouse in New York City around 11 a.m. Proceedings are expected to last 15 to 30 minutes with intense security measures in place.
The judge is expected to read the charges against Trump and ask him to enter his plea. Trump will then be escorted out. Trump is not expected to be involved in a "perp walk" or be placed in handcuffs.
The unprecedented indictment hanging over Trump's head likely stems from a $130,000 hush money payment he allegedly made to porn actress Stormy Daniels during the 2016 presidential campaign.
Prosecutors are expected to charge Trump with a felony by arguing that the alleged crime was committed to hide an illegal campaign contribution. The potential problem for Trump centers around how his company reimbursed former attorney Michael Cohen, who pleaded guilty to related charges and served time in prison.
The payment to Daniels was listed as a legal expense and Trump's company cited a retainer agreement with Cohen. The retainer agreement did not exist and the reimbursement was not related to any legal services from Cohen, thus setting up a potential misdemeanor criminal charge of falsifying business records. A report by NBC News said that Trump personally signed several of the checks to Cohen while he was serving as president.
Prosecutors can elevate the misdemeanor to a felony if they can prove that Trump's "'intent to defraud' included an intent to commit or conceal a second crime."
Prosecutors argue that the second crime is that the $130,000 hush payment was an improper donation to the Trump campaign because the money was used to stop a story to benefit his presidential campaign.
Trump's lawyer Joe Tacopina told CNN host Dana Bash on Sunday that he expects to make a motion to dismiss any charges.