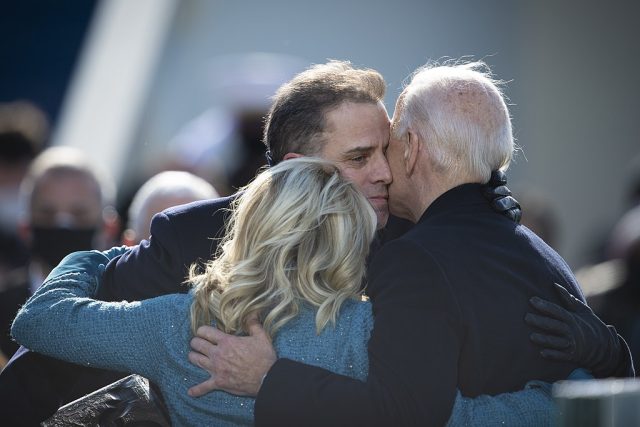 Stating that judges must take all testimony into account before deciding to accept a plea deal, one congressional leader is calling on U.S. Attorney General Merrick Garland to release testimony from two Internal Revenue Service whistleblowers alleging President Joe Biden's son Hunter Biden was given preferential treatment by the agency and is being protected from the true consequences of his crimes.

Biden has pleaded guilty to two misdemeanor tax charges, as well as federal firearms charges, as part of a deal with federal prosecutors. He awaits a July 26 plea hearing.
But U.S. House Ways and Means Committee Chairman Jason Smith (R-MO) is now calling on U Garland and U.S. Attorney for the District of Delaware David Weiss to submit to court allegations from Gary Shapley, previously the supervisor of the investigation at the IRS, and a second anonymous whistleblower alleging that investigators were pressured to go easy on Biden, ignore some crimes.
"Over the course of a single week in June, the existence of a plea agreement in this matter became public, a plea hearing was scheduled, and the Committee submitted whistleblower testimony to the full House," said Smith in a letter to Garland and Weiss.
"Given the abruptness of the plea agreement announcement shortly after it became public that whistleblowers made disclosures to Congress, the seriousness of the whistleblower allegations, and the fact that multiple congressional investigations into the matter are ongoing, we ask that you file this letter and the attached information in the docket…," said Smith.
"Placing the attached materials into the record is critical because the testimony provided by the two IRS whistleblowers brings new and compelling facts to light, and because it is essential for the Judge in this matter to have relevant information before her when evaluating the plea agreement," wrote Smith.
"In his letter, Smith also highlights precedent where judges have rejected plea agreements for a variety of reasons, including situations where the judge finds that such deals were inadequate or deficient given the crimes committed or the motivation of the accused, or the plea deal was not in the best interest of the country," a statement from the Committee reads.
Smith points out that plea agreements can be thrown out if it can be shown the plea agreement was reached improperly.
"In one state court proceeding, a judge rejected a plea agreement because '[i]t is contrary to justice. Justice in this society cannot be seen as being able to buy oneself out of a felony conviction.' The Judge also went on to say, '[m]any in our community steal much less and go to prison or to jail…They steal much less and they don't get a deferred judgment because they don't have any money,'" wrote Smith.
Opinions expressed by contributors do not necessarily reflect the views of Great America News Desk.