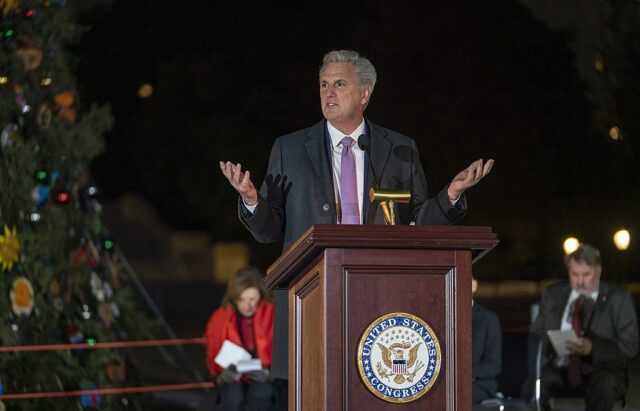 ANALYSIS – Some of the Republican Party's more 'firebrand' conservatives are trying to bully and threaten House Speaker Kevin McCarthy. Many in the media have tried to paint the battle in ways that discredit the GOP. 
I support vibrant debate within our party, but constantly undermining the leadership when the GOP has a slim majority is getting old. And McCarthy is clearly getting sick of it too.
Florida Republican Rep. Matt Gaetz bashed McCarthy on Tuesday, giving him a list of demands while threatening a motion for McCarthy to vacate the chair, essentially to remove him as Speaker.
This came just after McCarthy announced the Republican Party will move forward with an impeachment inquiry into Biden. However, Gaetz said that is not enough.
The Daily Caller reported:
"Now moments ago, Speaker McCarthy endorsed an impeachment inquiry. This is a baby step following weeks of pressure from House conservatives to do more. We must move faster. Now I will concede that the votes I have called for will likely fail. Term limits, balanced budgets, maybe even impeachment. I am prepared for that eventuality because at least if we take votes the American people get to see who's fighting for them and who's willing to tolerate more corruption and business as usual," he said. 
This all sounds good, but Gaetz seems to admit that it's all more show than substance. The votes aren't here. The GOP barely controls the House, and Gaetz is just posturing like he usually does.
So, McCarthy did something I highly respect. He told Gaetz and his allies: "If you want to file the motion," adding: "File the fucking motion."
Enough with the petty posturing, Gaetz. Work with the leadership to get real things done, and hopefully gain seats in 2024 to get more done.
The House GOP was expected to vote on the impeachment inquiry, but McCarthy did not mention a vote to move forward with the inquiry. This follows the precedent set by then-Speaker Nancy Pelosi during the first Trump impeachment in 2019.
The Daily Caller noted that:
The speaker said he now believes there is enough evidence stemming from the House Judiciary Committee and House Oversight Committee to move forward with an impeachment inquiry into the president.

McCarthy said in July that an impeachment inquiry would help Republicans better access documents detailing alleged misconduct from government officials benefiting Hunter Biden. Conference Chairwoman Elise Stefanik has endorsed McCarthy's' position, which Democrats adopted in 2019 during former President Donald Trump's first impeachment.
Asked Tuesday whether he was being hypocritical, McCarthy referred back to Pelosi: "I'm not, because she changed the precedent," reported The Hill.
"I warned her not to do it that way in the process. And that's what she did; that's what we did," McCarthy said.
As The Hill further noted:
Moving forward on an inquiry without a vote allows swift action on a priority for conservatives who have been pressuring the House Speaker. McCarthy's decision also protects moderates — particularly those who represent districts President Biden won in 2020 — from having to take a tough vote.
What McCarthy is doing is real and will be able to succeed. Let him get on with it, or "file the f*cking motion."
Opinions expressed by contributors do not necessarily reflect the views of Great America News Desk.