ANALYSIS – Donald Trump has been wrongly persecuted since he was elected president in 2016. From the 4-year long Hillary Clinton-manufactured 'Russia collusion' hoax, to corrupt investigations, to 'deep state 'resistance' within his administration, to a partisan impeachment — no president has been so unfairly hounded in U.S. history.
And now, we have the multiple indictments against him, including the ones for poor bookkeeping in the Stormy Daniels nonsense, and the "I can't remember exactly when it happened, but Trump raped me 30 years ago" case of E. Jean Carrol.
We have seen a lot of proverbial 'stuff' thrown at this Republican leader. Most of it stinks of political persecution. Few of it has stuck. And I have defended him through much of it.
But the latest federal criminal indictments are different. Yes, they are, of course, politicized.
The Department of Justice (DoJ) under the thumb of a president from the other party, and an opponent in the next election, accusing an ex-president of federal crimes, can't be anything but political.
And that will hold a lot of sway, especially with Republican voters.
Still, these latest indictments are far more serious and dangerous for Trump.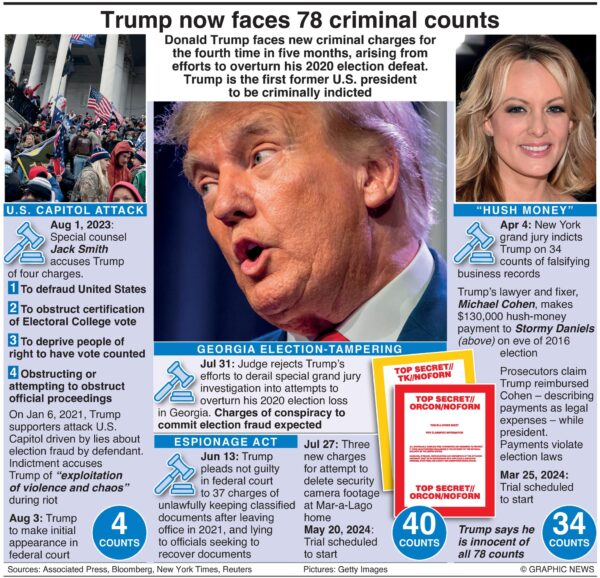 I have previously argued that Trump brought the Mar-a-Lago classified documents charges onto himself.
In part he did this by not turning over the sensitive materials when requested, by bragging about having them, by claiming he declassified them, and by jerking federal investigators around for 18 months.
Trump basically dared them to come after him. And they obliged. First by raiding his Mar-a-Lago home. Then, by indicting him.
Neither Joe Biden, nor Mike Pence did these things when they were found to have classified materials in their possession. They just turned them over.
Note – Trump was not charged for any materials he did return earlier in the process. He could have avoided the entire legal ordeal had he just returned all the classified documents, instead of hiding them in bathrooms.
Those charges carry real jail time; if they stick, and a Florida jury convicts him. Those are two big 'ifs.'
But Donald Trump now faces new criminal charges for the fourth time in five months, arising from efforts to overturn the 2020 election results.
In total, Trump faces 78 criminal counts. Any one of them can land the ex-president in federal prison.
The federal crimes with which Justice Department prosecutors have now charged the former president involve three conspiracies; conspiracy to defraud the United States, conspiracy to obstruct certification of the Electoral College vote and Conspiracy Against Rights.
Trump was also charged with obstruction. All can carry prison time if convicted.

Conspiracy to Defraud the United States makes it a crime for two or more people to "conspire either to commit any offence against the United States or to defraud the United States" or any federal agency and for one of them to perform some action that would affect the object of the conspiracy, which carries a fine or maximum prison sentence of five years if convicted.

Obstruction of an Official Proceeding criminalizes "obstructing, influencing, or impeding any official proceeding" or attempting to do so, which is punishable by a fine or up to 20 years in prison.

Obstruction charges relate to Trump's alleged attempts to block Congress from certifying the Electoral College vote. The January 6, 2021, attack on the Capitol building postponed the vote count.
According to the New York Times, he isn't the only charged in these conspiracies:
The indictment identified six individuals as co-conspirators in Trump's effort to overturn the election, but none of those people were charged Tuesday. Though the alleged co-conspirators were not named, the descriptions correspond to a cabal of Trump lawyers who embraced increasingly fringe strategies as Trump's bid to remain in power faltered. They include Rudy Giuliani, John Eastman, Kenneth Chesebro and Sidney Powell.
Trump is scheduled to appear in federal court in Washington, D.C., on Thursday afternoon for an initial court appearance before a magistrate judge.
He is expected to plead not guilty.
However, unlike the classified materials case in Florida, where a Trump appointed judge is in charge, this time Trump's case has been initially 'randomly' assigned to U.S. District Court Tanya Chutkan, an Obama-appointed judge who has been among the harshest critics of Jan. 6 defendants.
She appears anything but fair-minded.
As I said, political, or not – these indictments could be very serious.
Opinions expressed by contributors do not necessarily reflect the views of Great America News Desk.