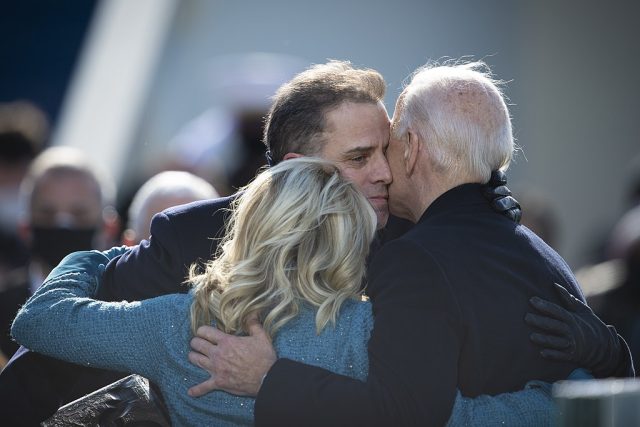 ANALYSIS – Even as the world obsesses over Donald Trump's latest legal dangers, the walls are slowly closing in on the Biden crime family. And I don't use the phrase 'crime family' often.
But it's becoming increasingly clear that Joe Biden used his time as Vice President as a golden opportunity to unlawfully enrich his entire family, often flying his son Hunter on Air Force Two abroad to seal deals.
In one well-known instance, VP Biden leveraged a billion dollars in U.S. aid to fire the Ukrainian prosecutor investigating the energy firm that employed Hunter.
In their ongoing investigation into alleged influence peddling involving Biden, members of the House Oversight and Accountability Committee have asked the National Archives and Records Administration for unrestricted access to Biden's travel aboard the vice-presidential jet, known as Air Force Two, and the VP's official helicopter, known as Marine Two.
They want to determine whether the trips aided his son Hunter's shady foreign business deals.
House GOP investigators believe Biden, while vice president under Barack Obama, used his power and influence to help his family and a group of associates with foreign business deals involving China, Russia, Ukraine and other countries, worth tens of millions of dollars.
And there is more evidence to back up their beliefs. Last month, Devon Archer, Hunter's former business partner, told House investigators the foreign deals were secured by selling the Biden "brand," essentially, Joe Biden's position as vice president of the United States.
"Then-Vice President Joe Biden abused Air Force Two by allowing his son to jet set around the world to sell 'The Brand' to enrich the Biden family," said House Oversight Chairman James Comer.
"This is yet another example of then-Vice President Biden abusing his public office for his family's financial gain."
More specifically, the Washington Times reported that:
Lawmakers on the Oversight panel said the president's son Hunter Biden may have traveled to 15 countries with his father while he was vice president and that during that time, Mr. Biden met in Beijing with his son's business associate, a Chinese national, while he was on official business.
"Then Vice-President Biden's misuse of Air Force Two and Marine Two is indicative of yet another way in which the President has abused his various offices of public trust and wasted taxpayer money to benefit his family's enterprise, which consisted of nothing more than access to Joe Biden himself," Oversight lawmakers wrote to U.S. Archivist Colleen Shogan.
House investigators also believe Biden used numerous aliases to hide his participation in his son's shady deals. The Times added:
…Comer also is seeking more than 5,000 White House emails that used aliases for then-Vice President Joseph R. Biden. The National Archives said it is awaiting approval from Mr. Biden and former President Barack Obama before handing them over to Mr. Comer, according to an aide to Mr. Comer.
White House records show that Mr. Biden used the name Robert L. Peters while serving as vice president. Mr. Biden also disguised his name on emails using the pseudonyms Robin Ware and JRB Ware, a play on his middle name and initials paired with his home state of Delaware.
Critically, investigators noted a May 26, 2016, White House scheduling email sent to VP Biden ahead of a call with the Ukrainian president, Petro Poroshenko that was also inexplicably sent to his 'private citizen' son, Hunter.
At the same time, the drug-addicted, unqualified Hunter was earning $100,000 a month as a board member of Ukrainian energy firm Burisma Holdings, which was under investigation for corruption. The U.S. State Department had said Burisma engaged in bribery.
And in a typical moment of braggadocio, a clueless Biden senior bragged about it. The New York Post reported:
In a 2018 interview at the Council on Foreign Relations, Biden bragged that he unilaterally withheld a billion dollars in US aid from the Ukrainians to force them to fire Prosecutor-General Viktor Shokin.
The Ukrainians balked, but Biden gave them an ultimatum: "I looked at them and said, 'I'm leaving in six hours. If the prosecutor is not fired, you're not getting the money.' Well, son of a bitch. He got fired."
Tough guy, that Biden.
Biden has claimed he demanded Ukraine fire its equivalent of Attorney General because he was corrupt, but we now know the State Department had found that Ukraine had made great strides in dealing with corruption, and Shokin, specifically, was praised in private correspondence.
The Post added that Devon Archer's testimony revealed that Burisma executives made the removal of Shokin a top priority and raised it with their hired gun, Hunter.
Archer reportedly described how Burisma officials told Hunter of the importance of neutralizing Shokin, and how "a call to Washington" was made in response. The call was of course to Dad.
And that's what House investigators are hoping to prove. The Obama-Biden White House call logs, emails, and flight schedules are all part of the mounting evidence against Joe Biden.