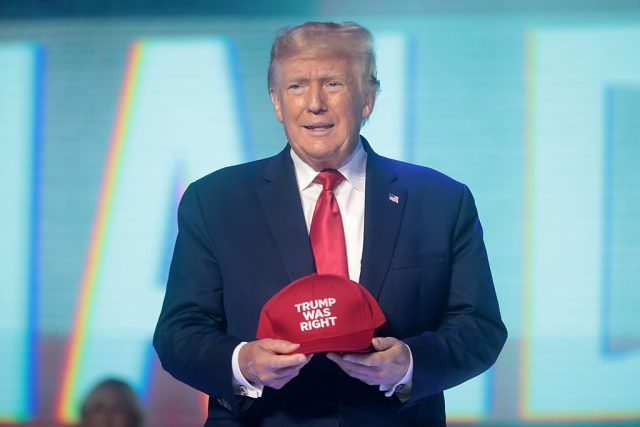 Is the Republican Party officially moving on from Donald Trump? According to conservative pundit and author Ann Coulter, the answer is a resounding "yes."
In Coulter's latest podcast of Unsafe aptly titled "Trump's Done" she dives into the signs Republicans are moving away from the former president and how his influence in slowly but surely dwindling.
Throughout the podcast Coulter notes how Trump's star has begun to fade, comparing the phenomenon to Sarah Palin who saw her rockstar status revoked following John McCain's unsuccessful 2008 presidential campaign.
Coulter also noted Trump's once-infamous rallies dwindling turnouts as further evidence he's losing power within the GOP.
According to Mediaite:
"They're like Deadheads," Coulter said of those still running to MAGA rallies. "They're following him from place to place. He sings the same songs."

Loyalty among Trump "fanatics," she added, is not "indicative of a movement sweeping the nation." Coulter mentioned a pair of Stone emails she received from the Trump team. The first was an email "slamming" Florida Gov. Ron DeSantis (R), considered by many to be Trump's biggest 2024 competition, should both men run for the Republican Party nomination. A second email, Coulter said, was Stone "backpedaling" on his criticism of DeSantis after he heard complaints from conservatives supportive of the governor.
Trump being "done" could be the message some politicians have been waiting to hear before wading into the 2024 presidential campaign arena. While the former President has made a habit of hinting at his potential presidential campaign some conservatives have held their breath in regard to their own political aspirations.
"Republicans, it's not the party of Trump. It's safe to come back, and it's safe for Republicans to stand up and run without Donald Trump," she said.
Former South Carolina governor and United Nations ambassador Nikki Haley previously said she would not launch a presidential campaign if Trump also were to run, and she's likely not the only Republican sharing that mindset.
However, Coulter was careful to note that moving away from Trump isn't necessarily a bad thing for the Party and predicted the GOP could still sweep the midterms.
"People are angry. Republicans are really angry. We are on a smooth glide path to really, really good midterm elections, and the only thing that can blow it is what probably will blow it: the Republican Party," she said.