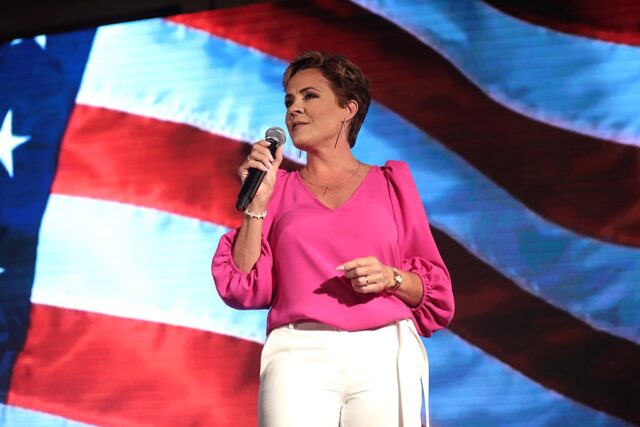 Arizona gubernatorial candidate Kari Lake is calling for extreme measures to be taken against Maricopa County election officials.
According to The Hill, the former TV news anchor said Maricopa officials should be "locked up" as she discussed her plans to challenge Gov.-elect Katie Hobbs' election victory in court.
"These people are crooks, they need to be locked up," Lake said of Maricopa County election officials, after listing off a series of largely disproven claims about election fraud.

Maricopa County, Arizona's most populous jurisdiction that includes Phoenix, has become an epicenter for allegations of voter disenfranchisement after some Election Day vote centers experienced printer malfunctions.
But Lake and others in the GOP have claimed the issues effectively amounted to voter disenfranchisement, noting that Election Day ballots in the state favor Republicans.
However, Lake said she wasn't sure how the judge would rule on the dismissal motion, asking the crowd to pray for him.
"We've seen judges dismiss cases, I don't want you to get discouraged," Lake told the crowd. "It could happen. We're going to kick this right up to the Supreme Court, and I will not stop fighting."
Among other allegations, Lake on Sunday claimed 300,000 ballots in Maricopa County were tabulated without proper chain of custody paperwork, as she has alleged in court, calling county election officials "magicians" who made ballots randomly appear.