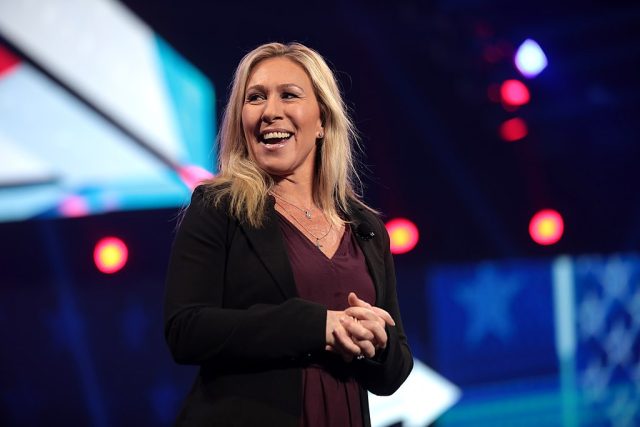 House Republicans want to hold Antifa accountable after demonstrators allegedly set fire to the construction site of an Atlanta public safety training facility anti-police and environment activists dubbed "Cop City" Sunday evening.
Georgia Rep. Marjorie Taylor Greene said she plans to introduce legislation to declare Antifa as a terrorist organization.
"Antifa are domestic terrorists and I'm introducing my resolution to officially declare them a terrorist organization on Tuesday," Rep. Green tweeted while sharing a video of the fire.
"This is domestic terrorism. It was planned for weeks and announced on social media. Antifa are self proclaimed communists and consistently organize to attack our government over and over again. They should be taken seriously and not tolerated anymore," she tweeted.
Fox 5 reported Sunday that the facility was on lockdown after at least one construction vehicle was set on fire amid the latest protests on Sunday.
A progressive group called "Stop Cop City" has been protesting against the new 85-acre training facility being built in the wooded parts of DeKalb County, Atlanta since plans for it were announced, arguing it will promote the militarization of the police and may result in environmental concerns.

On Monday, the Atlanta Police Department (APD) confirmed that a group of "agitators" left the nearby South River Music Festival around 5:30 p.m. and descended on the construction site of the proposed Atlanta Public Safety Training Center "to conduct a coordinated attack on construction equipment and police officers," the APD said in a statement.
Authorities noted that agitators changed into black clothing and allegedly began to throw commercial-grade fireworks, Molotov cocktails, large rocks, and bricks at police officers. Antifa is known to use similar tactics.
Atlanta Chief of Police Darin Schierbaum said Sunday's incident marked a "significant escalation" both in the level of violence and the number of individuals involved in the attack.
"This wasn't about a public safety training center. This was about anarchy, and this was about an attempt to destabilize. And we are addressing that quickly," Schierbaum told reporters. "Actions such as this will not be tolerated. You attack law enforcement officers, you damage equipment, you are breaking the law. This was a very violent attack that occurred this evening."
The FBI and Georgia Bureau of Investigation have joined the probe, he said.
Atlanta police said at least 35 people had been detained as of Sunday night. Charging decisions have yet to be announced.
"Some of those arrested yesterday were from Massachusetts and New York and France and Canada. So this is a national network, an international group of people that are organized to come to our state to undermine a public safety training center," Georgia Attorney General Chris Carr said in an appearance on Fox News Monday morning.
"This is not a protest," the chief added. "I made a clear distinction of what a protest looks like. When it is a legitimate protest, you have the full protection of the Atlanta Police Department. This is not a protest. This is criminal activity. And the charges that will be brought forth will show that."
Before Sunday, at least 19 people had been arrested and charged with domestic terrorism since December in connection to demonstrations at the "Cop City" site.
In January, Georgia Gov. Brian Kemp (R) issued a state of emergency after protests broke out in response to a police shooting of an activist during an operation to clear out the construction site for the facility.