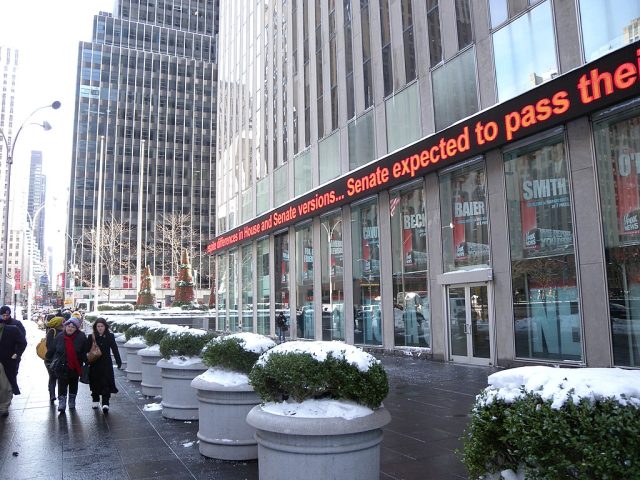 A progressive veterans organization is pushing to ban the airing of Fox News on U.S. military bases.
According to The Hill, a new ad by the group VoteVets hones in on recent revelations made as part of a legal fight the network faces over its coverage of the 2020 election.
A narrator for the ad says Fox engaged in "information warfare that divides the troops, hurts unit cohesion, weakens our readiness, and threatens our national security."
"There's no excuse for allowing anti-American, anti-democracy anti-military disinformation in the barracks, in the chow hall or anywhere our troops serve," the ad says.
Watch the ad here below:
Fox News is currently embroiled in a 1.6 billion defamation suit against Dominion Voting Systems. The company has argued Fox intentionally aired false claims about the company regarding the 2020 election.
Fox has so far unsuccessfully moved to have the case dismissed on First Amendment grounds.
Fox released the following statement on the ongoing legal matter:
"Dominion's lawsuit has always been more about what will generate headlines than what can withstand legal and factual scrutiny, as illustrated by them now being forced to slash their fanciful damages demand by more than half a billion dollars after their own expert debunked its implausible claims," the network said in its most recent statement about the case.
"Their summary judgment motion took an extreme, unsupported view of defamation law that would prevent journalists from basic reporting and their efforts to publicly smear Fox for covering and commenting on allegations by a sitting President of the United States should be recognized for what it is: a blatant violation of the First Amendment."
Recent court documents from the ongoing dispute revealed some network executives and prime-time lineup privately doubted former President Donald Trump's claims of widespread voter fraud after losing reelection. However, some of them expressed fear that any fact-checkers might alienate their audience.
American Liberty News previously reported that at one point, Laura Ingraham's producer messaged network management, saying her "BS" about the election would wind up giving him "a f*cking aneurysm."
Around the same time, Tucker Carlson wanted Fox News' prime-time hosts to pressure network execs to fire reporter Jacqui Heinrich for fact-checking Trump.
"Please get her fired," Carlson messaged Sean Hannity. "Seriously… What the f*ck?"