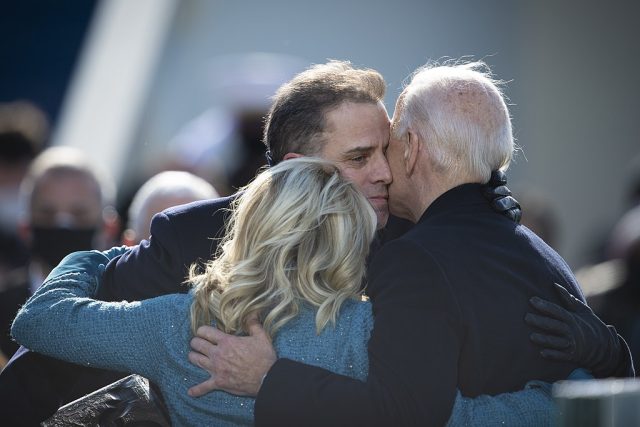 Conservative legal group, America First Legal (AFL), is suing the FBI for allegedly concealing communications between the agency and Big Tech companies regarding reports published about the contents of Hunter Biden's laptop
On Tuesday, AFL which is led by former Trump White House advisor Stephen Miller filed a Freedom of Information Act (FOIA) lawsuit in a Washington, D.C., federal court. The lawsuit claims that the FBI acted illegally by failing to publicize its communications with Facebook and other Big Tech companies that worked in coordination with the agency to "censor news and information" about Hunter Biden's laptop immediately before the 2020 presidential election.
Hunter's laptop included information detailing Hunter's overseas business dealings and ties to Ukraine, China, and other foreign nations as well as other salacious material related to his drug use. Hunter is also facing a federal investigation into various tax violations and potential foreign lobbying violations, according to Fox News.
The lawsuit states: "The evidence is that the FBI and Big Tech, including Facebook, colluded to interfere with the 2020 Presidential election first by falsely and maliciously labeling the laptop 'Russian disinformation' and then by censoring and/or discrediting all news about its contents."

"Now, barely a month before the 2022 midterm election, FBI officials continue to suppress information of great interest to American voters and stonewall AFL's request for records relating to the FBI's collusive scheme with Facebook to censor news and information about the contents of Hunter Biden's laptop," continues the lawsuit.
President Biden, along with other Democrats and administration officials, have attempted to
In August, Republican Sens. Chuck Grassley (Iowa) and Ron Johnson (Wis.) called on Facebook to turn over communications between government agencies and Facebook employees regarding Hunter Biden after the company admitted to suppressing content related to the scandal following instruction from the FBI.
"The evidence is that during the 2020 Presidential election campaign, the FBI conspired and combined with large corporations, including Facebook, to censor and suppress the damning evidence of Biden family corruption and influence peddling found on Hunter Biden's laptop," AFL's senior counselor and director of oversight Reed Rubinstein told Fox News Digital. 
"This was done to help Joe Biden and the Democrats win the 2020 election. Now, arrogantly disregarding the law, the FBI is stonewalling AFL's efforts to expose the FBI's emails detailing the tradecraft behind this collusive attack on our elections, and identifying the persons inside and outside of government who were responsible for it," Rubinstein continued.