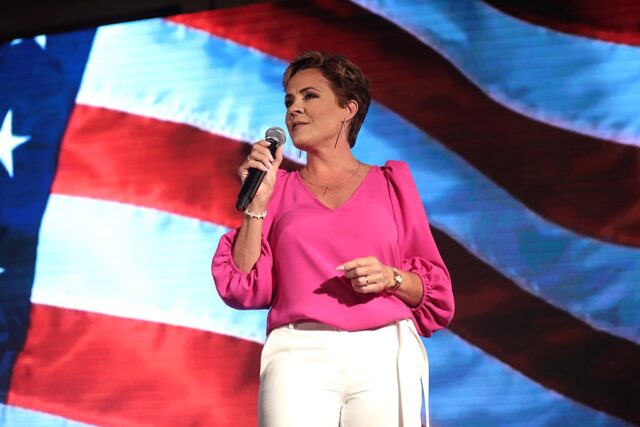 Arizona conservative firebrand Kari Lake officially launched her highly anticipated campaign for U.S. Senate Tuesday night.
"I am not going to retreat. I'm going to stand on top of this hill with every single one of you. And I know you're on my side as I formally announce my candidacy for the United States Senate," Lake told a crowd in Scottsdale, Arizona as they cheered the longtime former television anchor turned MAGA star.
Lake is set to face off against Pinal County Sheriff Mark Lamb.
In a statement following Lake's entry into the race, Lamb told Fox News he was the "only one proven conservative winner" running for Senate in Arizona.
"I am a lifelong conservative who has dedicated my life to protecting Arizonans and keeping them safe when Democrat policies make that job almost impossible. I have been in Arizona fighting for the people that call this great state home. I'm not a talker, I'm a doer, and I win elections. That is what separates me from my opponents," he said.
The winner will likely face Phoenix-area Democrat Rep. Ruben Gallego, who is seen as the front-runner for his party's nomination.
Gallego's campaign reacted to Lake's announcement by predicting voters would reject her "again," referencing her loss to current Democrat Arizona Gov. Katie Hobbs last year.
"Arizonans — including a significant chunk of Republicans — already rejected Kari Lake once because of her dangerous plans to ban abortion and undermine our democracy. Her extremism should disqualify her from public office — and it will. Again," Gallego campaign spokesperson Hanna Goss told Fox News Digital.
Shortly after announcing her campaign, former President Trump endorsed the Arizona conservative.
The former president's video message was played at Lake's campaign kickoff event on Tuesday night. He said he wished he could be there but is "busy fighting off all the bad people," presumably an allusion to the fact that he is under criminal indictment in four jurisdictions.
"We're leading every poll by a lot," he said. "And when I'm back in the White House, I need strong fighters like Kari in the Senate. She is a fighter. She's strong. And she's good. She's got a great heart, by the way."