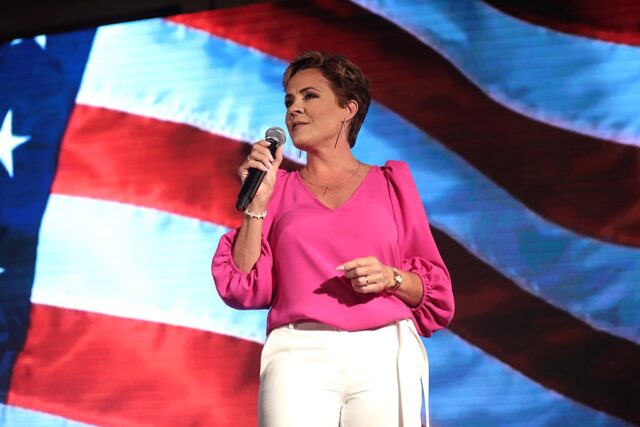 Don't mess with Kari Lake.
The TV reporter turned Republican Arizona gubernatorial nominee wasted no time in hitting back at her Democrat opponent Katie Hobbs' baseless claim she was connected to a break-in at the Democrat's office.
The Phoenix Police Department is currently investigating an early Tuesday break-in at Hobbs' campaign office as a "commercial burglary." However, despite authorities noting only a few items were taken Hobbs wasted no time before pointing fingers at Lake.
However, on Thursday authorities confirmed a suspect has been arrested in connection with the burglary.
According to The Daily Caller, Phoenix police Sgt. Brian Bower didn't identify what items were stolen from the campaign office.
"Unfortunately, Katie and so many other elected officials are victims of threats and intimidation tactics like this. Make no mistake — this is a direct result of Kari Lake and fringe Republicans spreading lies and hate and inciting violence — and it is despicable." The Arizona Democrat Party said while retweeting a message from Hobbs' official Twitter.
In photos of the break-in shared by Hobbs' campaign, the suspect can't be seen wearing anything distinguishing that points to any political affiliation, let alone a link to Republicans.
During a Wednesday appearance with CNN, Lake called the accusations from Hobbs's campaign "despicable" and hit at media for willingly amplifying her baseless lies.
"That is absolutely absurd. It sounds like a Jussie Smollett part two. You're going to drag the people through something like this?" Lake said. "You're letting a woman who has been running a terrible campaign direct you to a story like this? You know she is running a bad campaign."
"I can't believe she would blame my amazing people, blame me for something like that," Lake said. 'I don't even know where her campaign office is. I'm assuming it's in a basement somewhere, because that's where she's been campaigning. You guys are despicable for falling into that trap."

"I'm saddened that Hobbs and her camp would try to pin this on us. It's defamatory and it's wrong. Her own party is attacking her. She is trying to deflect her abysmal campaign," Lake added.
Lake, a political newcomer, has exceeded experts' expectations as she's seen unprecedented success throughout her campaign. RealClearPolitics still regards the race as a "toss up" but recent polls show Lake with a distinct edge over her opponent. A Daily Wire/ Trafalgar poll showed Lake with a three-point edge over Hobbs while a Fox 10/ InsiderAdvantage poll reported Lake up 11 points.
In the Arizona Senate race, the nonpartisan Cook Political Report(CPR) reported it is shifting its rating of the race from "lean Democrat" to "toss up" less than two weeks ahead of Election Day.
CPR noted the new shift because recent private polling has shown the race between Sen. Mark Kelley (D) and Republican Blake Masters tightening up despite the fact that Democrats are outspending Republicans in the state by a 2-to-1 margin.