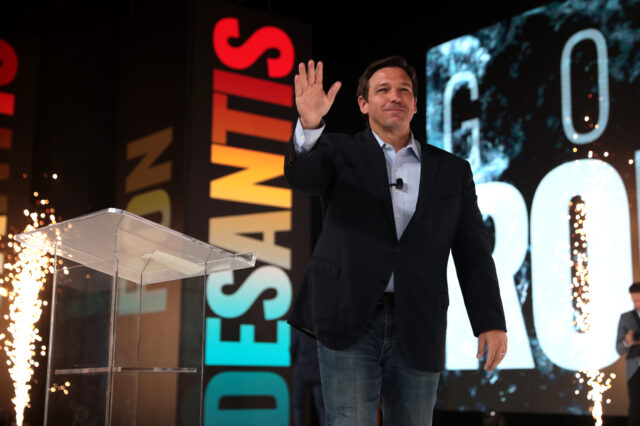 Donald Trump is giving Florida Governor Ron DeSantis the silent treatment.
In what appears to be the latest rift between the two Republicans, Trump announced he plans to campaign for Florida Sen. Marco Rubio two days before Election Day, notably leaving out the Governor from the event.
Trump's plan to hold a Nov. 6 rally in Miami shocked sources close to DeSantis who say the governor wasn't notified of the event prior to the former president's Wednesday announcement, according to Politico.
The timing of the Trump and Rubio event means any campaign event DeSantis holds that day won't receive as much attention during the all-important final stretch of the 2022 midterms.
"You've got the Sunday before Election Day totally hijacked by Trump parachuting in on Trump Force One taking up the whole day," said a longtime Republican consultant who is close to the governor. "No Republican could go to a DeSantis event that day. None. And DeSantis won't be here? This is big."

Another person who is influential in DeSantis' world said it was "an elbow to Ron's throat" and blamed Trump advisers.
However, an adviser close to Trump said that the event isn't meant to take attention away from the Florida governor and is just part of a series of campaign stops scheduled for the former president.
"This is an event President Trump is holding as part of a series of stops he is making for Republican Senate candidates," the Trump adviser said. "It came after he and Senator Rubio spoke directly."
Trump and DeSantis have been at odds over potentially going toe to toe in 2024 for the Republican nomination. Trump has strongly hinted at launching a presidential campaign but early polls have shown an increase in Republicans preferring DeSantis as a potential nominee, posing a major threat to Trump.
Earlier this week, DeSantis split with Trump when he opted to endorse Colorado Senate candidate Joe O'Dea who the president previously referred to as a "stupid person with a big mouth." Trump said DeSantis' endorsement was a "BIG MISTAKE" is a message to his TRUTH Social.
READ NEXT: Trump Snaps Over DeSantis' Endorsement of Colorado Senate Candidate >>