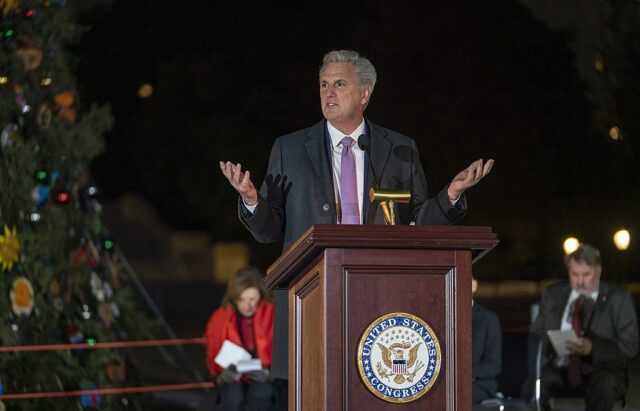 Kevin McCarthy said he thinks Judiciary Committee chairman Jim Jordan will ultimately become the next Speaker of the House.
The California Republican made the prediction on Fox News almost two weeks after the House voted to remove him from the role, leaving Rep. Patrick McHenry (R-NC) as speaker pro tempore while a possible government shutdown looms and Israel goes to war with Hamas.
"I did walk in with more support during this time, but I believe, at the end of the day, Jim can get there. And I'm doing everything I can to help him be able to become speaker," McCarthy told anchor Maria Bartiromo on "Sunday Morning Futures."
While Democrats are pushing for a coalition to elect a new speaker, which Minority Leader Hakeem Jeffries (D-NY) indicated would include rules changes "to facilitate bipartisanship," Jordan's backers say they don't want to resort to making concessions.
"Some Republicans want to cut a deal with Democrat leader Hakeem Jeffries to elect a Speaker. With Democrats controlling the White House and the Senate, we must not give up control of the House," Rep. Thomas Massie (R-KY) said in a post to X on Sunday. "Republicans should unite behind Jim Jordan as our Speaker of the House!"
With reports on Sunday indicating that a floor vote could happen as early as Tuesday, McCarthy said Jordan is busy trying to shore up support.
"I talked to Jim last night. He's talking to every single member, assessing what their challenges are. But we have got to be able to work together," McCarthy said.