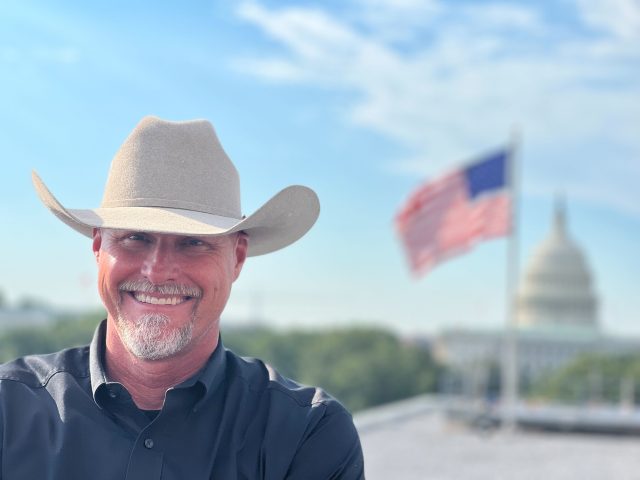 The Federation For American Immigration Reform (FAIR) is currently hosting its annual two-day event – "Hold Their Feet to the Fire" – which is a gathering of radio show hosts, members of Congress, dozens of immigration activists, and even a few non-radio media members including your very own American Liberty News – who were invited to attend the event this year. The purpose of the event is to have the tough conversations about immigration that most in the mainstream media refuse to have.
Sheriff Mark Lamb of Pinal County, Arizona – and of Live PD and 60 Days In fame – was one of this year's attendees. Pinal County is located between the cities of Phoenix and Tuscon.
I had the chance to ask Sheriff Lamb a few questions today and get his thoughts on why he had come to Washington this year to share the extreme impacts of illegal immigration that he sees every day back home in Arizona, as well as what Washington can do about it.
When asked about specific policies Washington could enact to make the lives of Sheriffs like himself easier, Lamb first pinpointed what he sees as "a key problem in this country" – "that we don't understand the three branches of government anymore. " Each branch is in place do their job and from the Sheriff's perspective – that's not currently happening.
The number one problem that his officers face every day, Lamb said was Fentanyl, an issue that President Biden and most Washigton, D.C. politicians rarely touch on. Most Fentanyl that comes into the United States makes it through Pinal County, due to the I-10 corridor. Lamb praised the brave officers in his department who are on that interstate every day trying to stop the flow of drugs, as well as humans beings who are also smuggled through his jurisdiction illegally.
Still, he emphasized that fentanyl is the leading cause of death amongst Americans between the ages of 18 and 45. Last year in Arizona, Lamb told me there were 33 children who died from fentanyl – seven of them were under the age of one.
When prompted, Lamb said he would welcome a visit from Biden as he could not recall a time when Biden had visited the border – either during his time as President or tenure as Vice President. "I do not agree with these guys at all, but I have respect for the positions of President and Vice President."
The Sheriff's first and foremost request to the Administration is simple, he "would actually like to see them do their job – protect our border, secure it." The easiest thing they can do is first "go back to the Trump-era policies, as we know those worked." He said that the Biden Administration should should "start there, and then build from there." In another effort to highlight the differences between the current Administration and their predecessors, Lamb said that he wants to see partnerships restored between federal agencies and the local agencies. He emphasized a stark difference between the "open line of communication that existed under Trump", and the lack of communication he experiences now.