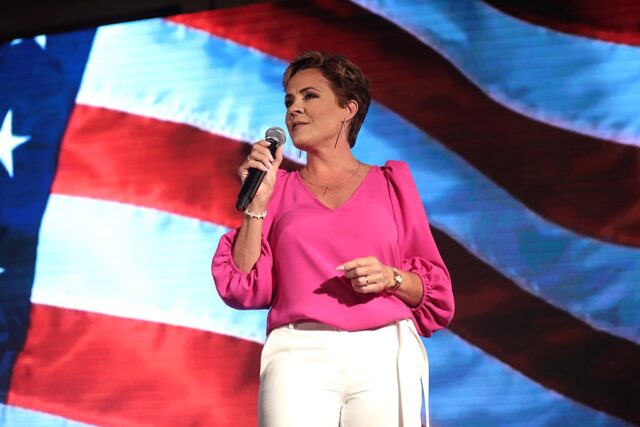 Kari Lake won't go down without a fight.
The 2022 Arizona gubernatorial hopeful has filed an appeals notice to overturn an Arizona judge's decision to dismiss her election contest.
According to The Washington Examiner, in the appeal filed with Arizona Superior Court on Tuesday, the Republican challenged the dismissal of several counts that were thrown out by Maricopa County Superior Court Judge Peter Thompson over the weekend.
In his decision, Thompson ruled Lake's campaign did not have sufficient evidence to support her claims that the election was influenced by intentional misconduct that handed Hobbs the victory.
"I am standing up for the people of this state, the people who were done wrong on Election Day, and the millions of people who live outside of Maricopa County, whose vote was watered down by this bogus election in Maricopa County," Lake told Steve Bannon on his War Room podcast on Tuesday.

Lake signaled her intent to appeal the judge's decision shortly after her lawsuit was thrown out, claiming her "election case provided the world with evidence that proves our elections are run outside of the law."
Earlier this week, Gov.-elect Katie Hobbs (D) requested the judge sanction Lake.
Maricopa County and Hobbs argued Lake and her team should have known that they had no evidence to successfully mount an election challenge. They also noted the Republican's refusal to commit to accepting the election results prior to the midterms citing a since-deleted tweet Lake issued on Monday accusing the judge of integrity violations.
On Wednesday, Lake avoided being found liable for hundreds of thousands of dollars in legal fees incurred by Arizona Governor-elect Katie Hobbs and Maricopa County after a judge rejected pleas to sanction the losing gubernatorial candidate.
Arizona Superior Court Judge Peter Thompson ruled Tuesday that Lake must pay $33,000 for the expert witnesses hired by Hobbs in defense of her Nov. 8 election victory.