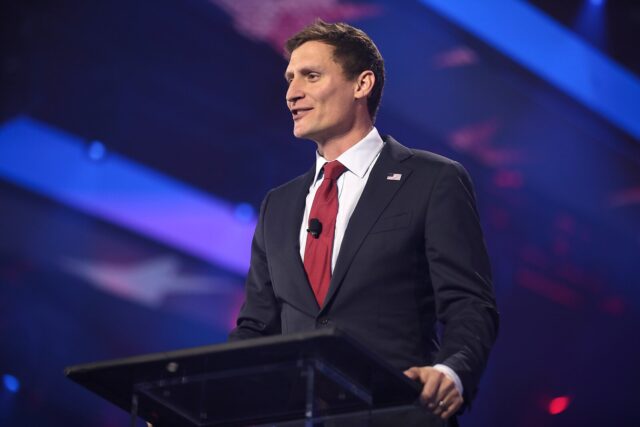 Despite losing to Democratic Sen. Mark Kelly in 2022, Blake Masters plans to run for the United States Senate again.
This time against Kyrsten Sinema.
Confirmation from Masters may come as soon as next week, as Politico reports:
Masters did not reply to a request for comment. Masters won the GOP nomination last year but lost to Democratic Sen. Mark Kelly in a critical swing state.

Former gubernatorial candidate Kari Lake's advisers say she is expected to announce a Senate campaign in early fall, though some Republicans are skeptical Lake and Masters would run for the same seat. Pinal County sheriff Mark Lamb is another GOP candidate.

Barrett Marson, an Arizona-based GOP strategist, said he talked to Masters a few months ago and he "was pretty decisively in." However, he said, Masters had been waiting for Lake to decide whether to run.

"I think he is now under the impression that maybe Kari Lake isn't going to run, because I'll tell you if Lake and Blake are both in, he is wasting his time," he said. "They occupy the same lane. They have nearly the same name. And she has much better positive name ID among Republicans than Blake does."
In March 2022, Masters resigned from Peter Thiel's firm to run for Senate. Within three months, he secured endorsements from Thiel and former President Donald Trump, leading to a comfortable victory over Arizona Attorney General Mark Brnovich in the Republican primary.
However, Sen. Kelly defeated Masters by 4.9 percentage points. Kelly enjoyed a massive fundraising advantage, raising $75 million compared to Masters' $12 million.
On the campaign trail, Kelly utilized the Supreme Court's decision to overturn Roe v. Wade, Masters' support for privatizing Social Security, and his flip-flopping on the 2020 presidential election to weaken his support with Republican-leaning voters and moderates.
This article first appeared in American Liberty News.